Welcome to the Irish Historical Studies Website
Covid-19 Update - Information for individual subscribers
18 July 2020
We are pleased to advise individual subscribers that Cambridge University Press has restarted the printing of journals which had been disrupted by the Civid-19 pandemic. While the May 2020 issue of Irish Historical Studies has been delayed, we anticipate that it will be distributed to subscribers later in the summer. The online version will be available to subscribers on the CUP website in the coming weeks. See our subscriptions page for details of renewing or taking out a new subscription to the journal.
For further information see the statement from Cambridge University Press.
---
Irish Historical Studies, founded in 1938, is the joint journal of the Irish Historical Society and the Ulster Society for Irish Historical Studies.   It publishes articles embodying original research on Irish history; articles on the scope and teaching of Irish history; select documents, with editorial comment; select and critical bibliographies and guides to sources, manuscript and printed; and reviews of books and periodicals having a bearing on Irish history.  Annual lists of writings on Irish history, carried in Irish Historical Studies from 1938 to 1979, are now available digitally through Irish History Online (www.irishhistoryonline.ie).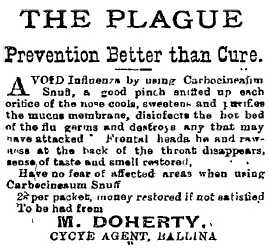 An advetisement for snuff, extoling its curative properties, from the Connacht Tribune in 1918
 
---
In the autumn of 2014 the Management Board of Irish Historical Studies made the decision to enter a partnership with Cambridge University Press and from issue no. 155 (May 2015), the journal has been published by Cambridge. The journal will contunue to be published twice a year. Individual subscriptions remain unchanged from 2014 levels. For further detials please see our subscriptions page.
The joint editors are Dr Liam Chambers and Dr Marie Coleman and it has a fourteen person International Advisory Board. The journal is copy-edited by Máire Ní Chearbhaill.
Number 164 of the journal was distributed to subscribers in January 2020. If, as an individual subscriber, you have not received a copy of No. 163, please contact info@irishhistoricalstudies.ie.